Lighting Installation in Columbus, OH
Known as the contractor to call for lighting in Columbus, OH, PTI Electric & Plumbing has been servicing the local area since 2006. Our installers have worked in countless homes and businesses across the region, providing lighting design and installation both indoors and out. Our experienced electricians are trained in local building codes. Working in Columbus for years, PTI Electric & Plumbing technicians have completed outdoor lighting projects, as well as indoor lighting design and installation. Our staff must maintain up to date skills and PTI Electric & Plumbing provides fully licensed services for lighting projects of any size.
---
Call for a FREE Quote
---
Upgrading or Installing Lighting in Columbus, Ohio?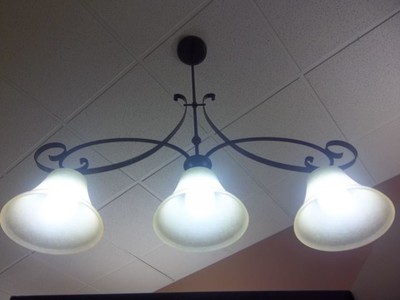 PTI Electric & Plumbing deals with the leading lighting manufacturers, offering Columbus customers the best and latest technology, fixtures and controls. Combine quality materials with expert installation and your Columbus lighting project will be well taken care of by PTI Electric & Plumbing's professional staff. From modern ceiling fans and light fixtures to the latest track lighting and recessed lights, PTI Electric & Plumbing offers high-quality materials in both classic and modern styles.
PTI Electric & Plumbing's Columbus Lighting
Lighting design and installation projects move forward efficiently with PTI Electric & Plumbing at the helm. Columbus residents can rely on prompt service from the estimate stage, straight through to the installation and final inspection. PTI Electric & Plumbing electricians aim to create trust with every Columbus customer, keeping their word and doing a careful job every time. Customers that are planning to install lighting in your Columbus, OH home, office, or facility, you can trust the experience and reliability of PTI Electric & Plumbing. For high-quality materials and professional technicians, call PTI Electric & Plumbing at (614) 916-6895 to arrange for your free quote.
WHAT CUSTOMERS ARE SAYING:
5★★★★★ - "Had an emergency call for an electrician and the guys were AWESOME. So efficient, kept in touch on their way here, and the price was more than fair. This company absolutely has our business in the future. Thank you!!!"
Kala, Emergency Service in Columbus, OH
2018-12-03
---
5★★★★★ - "They called right away, found the problem (old wiring at one location had shorted out everything on the circuit) and fixed it quickly. Great value for the money! Knowledgeable people throughout the process. Kept their card and will definitely use them again."
Patrick D., Emergency Electric Service in Columbus, OH
2015-04-29
---
5★★★★★ - "John and his team do a great job at a fair price. They consistently went above and beyond in everything they did. I would definitely recommend them to anyone."
Joseph B., Electric Service in Columbus, OH
2015-04-29
---
5★★★★★ - "John was most helpful in providing preliminary information over the phone and also helpful by returning calls promptly-- even after hours. When it became apparent that my electrical job was beyond the scope of a simple breaker replacement, John and Tim worked me into their schedule same day. Great work, great customer service and a job quickly-- but thoroughly-- completed. I would definitely hire PTI again."
Tracey W., Electric Panel Upgrade in Columbus, OH
2015-04-29
---
5★★★★★ - "Super nice guys. Very knowledgeable."
Amy H., Electric Switch Installation in Columbus, OH
2015-04-29
---
5★★★★★ - "U guys can use me as a reference any time thx for the great job and fast reasonable service Thx to u guys my ac is working again."
Dann Finn in Columbus, OH
2013-09-11
---
5★★★★★ - "PTI, LLC has worked for us and helped us on our renovation projects for 3 years now and every job has been done well. We especially like the work they do and they are trustworthy, have integrity and are fair. We will continue to use PTI for all our electrical contracting and service and repair needs on our residential and commercial projects. I am writing this because the other night we called them to do an emergency panel burnout in a restaurant and they came within 20 mins and had the restaurant back up with power in 45- 50 mins. This saved us from significant losses. I never do these things but I felt the Team at PTI deserved a thank you!"
Gerry McKown and Mike Malaby
2013-08-16
---
"I needed a contractor for all kinds of work. I was getting tired of high estimates and people trying to take advantage of me...I am the owner of many Columbus Stores off of East Main and Livingston Ave - I had an electrical panel blow up so I was looking to get a lot of work done and met the electrician to talk to him about this emergency to get my store up and fixing some code violations, they provided me a very affordable solution to not only take care of my electrical fast and get my store up again but to save money on my electrical and the technician explained to me that I can save 50% on my electric bill just changing the old inefficient lighting I currently had. I was very skeptical. They provided me all the information and I was still not sure but they offered to do a trial period. My electrical and lighting was in bad shape. I also needed HVAC, and other work done to get some other businesses open. I run many businesses and having an honest company who can provide me quick, honest and affordable service is the most important thing. When I was told I would receive a rebate check for 50% in addition to the savings on my electric bill and instant tax credits I was even more skeptical. It was all true. My electrician provided me a total solution on a trial basis, fast install of retrofitted my lights, and old HVAC system. Now I spend a lot less money on energy. I also get lighting a lot less expensive from them direct and if I ever need to get any work done on my home or businesses I will recommend them. They were fast, very honest, and saved me money. I now have had the work done for about a year and everything is about paid off with the AEP payback plan - plus tax writeoffs and incentives of $0.60 per/sq ft."
Mohamad Cahre
---
5★★★★★ - "No other company sends people out who do a good job like PTI. With PTI I know I am going to get a godd price and a good technician."
TJ Roloas - BMI Properties
2012-05-22
---
5★★★★★ - "I called on them to come out and give us an estimate, as soon as John came to our home I knew he was honest and helpful so we hired him for our project. The work turned out wonderful!"
Suzanne Bayless
2012-05-22
---
5★★★★★ - "Loss of power in half of our home on a late Sunday evening."
Bob M. in Dublin, OH
2018-12-17
---
5★★★★★ - "John answer my phone calls and e-mail quickly. He arrived on time and completed our electric work within the quoted time. We had motion sensors install on our laundry room light. They work perfectly and above all the wife is very pleased."
Robert C., Electrician in Canal Winchester, OH
2015-04-29
---
5★★★★★ - "John was great to work with and very reasonable - I'd definitely hire him again."
Electricians in Hilliard, OH
2015-04-29
---
5★★★★★ - "They responded quickly. We were able to agree on terms for the project. We will use them again."
Electrical Fixture Installation in Upper Arlington, OH
2015-04-29
---
5★★★★★ - "I called PTI for electrical services and their contractors did a very professional job. They were courteous, respectful, and honest. We decided to go with them for remodeling our entire home and they provided us a basement remodel the we are very happy with. They designed it and finished the entire project very nice. We then hired them for more home improvements including the landscaping. I was surprised at how much they are able to do. We even got our fencing done. I would recommend them because the the technicians are trained well and they answered all my questions before I had them doing any work. They also cleaned up after each day they worked on my home."
Baljeet Birang in Upper Arlington, OH
2013-02-27
---
5★★★★★ - "We called PTI and they have provided us very good service. It was affordable and fast response. We will use them again."
Rosa Garcia
2012-05-22
---
Call for FREE Lighting Installation Quote
---
Lighting Installation available in the following Columbus, OH zip codes:
43085
43201
43202
43203
43204
43205
43206
43207
43209
43210
43211
43212
43213
43214
43215
43216
43217
43218
43219
43220
43221
43222
43223
43224
43226
43227
43228
43229
43230
43231
43232
43234
43235
43236
43240
43251
43260
43266
43268
43270
43271
43272
43279
43287
43291