Plumbing
In the home services business, it makes sense for contractors to have expertise in more than one field. Particularly, both electrical and plumbing work. That's why we have expanded our services to include expert plumbing for all of our clients. PTI Electric & Plumbing has been involved in the home services industry since 2006. For more than 14 years, we have provided professional plumbing and electrical services to local homes and businesses. Call (614) 916-6895 to find out how we can help with your plumbing needs.
---
Call for a FREE Quote
---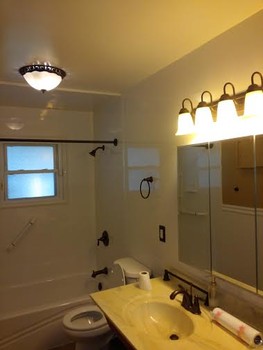 We've got the tools
PTI Electric & Plumbing has fully licensed master plumbers on staff to handle all of your plumbing needs. Our plumbing work is done in compliance with state code. Our comprehensive plumbing services include: leaking faucet and pipe repair, garbage disposal installation & repair, toilet installation, gas appliance hookup, sump pump installation & repair, water heater installation & repair, and plumbing work for sinks, showers, and bathtubs.
Water Heater Installation & Repair
Hot water is a privilege we don't realize we take for granted until our water heater breaks. If your water takes too long to heat up, is not hot enough, too hot, or smells awful we can help with that! PTI Electric & Plumbing's expert plumbers can assist with selecting and installing a new water heater including newer energy efficient options or repairing your existing water heater to extend it's lifespan.
Sump Pump Installation & Repair
Sump Pumps are a crucial preventative measure that you can put in place to prevent greater costly repairs down the line in the event of a water emergency in your home or business. Let the professionals at PTI Electric & Plumbing install or replace your sump pump to ensure you are protected and everything is working as expected. Call (614) 916-6895 to learn more.
Garbage Disposal Installation & Repair
Garbage disposals are a widely popular household convenience. If you are looking for a new garbage disposal to be installed or replace an older unit you can trust the experts at PTI Electric & Plumbing with over 14 years experience. Backed up and clogged garbage disposals can create a plumbing nightmare if the issue is not remedied quickly. Also, any non-food items can damage a garbage disposal preventing it from performing at a peak level. Our master plumbers will get your garbage disposal up and running quickly whether you need a repair, replacement or installation.
Minimize your inconvenience
If PTI Electric & Plumbing is already on site to handle your electrical needs, it is more convenient to have us handle your plumbing work too. Get your project completed on time by hiring PTI Electric & Plumbing to handle all of your plumbing and electrical work. A majority of the appliances in your home require proper plumbing to functional efficiently: sinks, bathtubs, showers, dishwashers, washing machines, gas appliances, refrigerators, air conditions, heaters, and more. If any one of them breaks down, it can seriously disrupt your day.
PTI Electric & Plumbing offers 24/7 emergency service to deal with emergency plumbing repairs. Don't let a broken pipe ruin your day. Call the professional plumbers at PTI Electric & Plumbing: (614) 916-6895. We get on site quickly to handle your plumbing emergency.
---
Call for Fast FREE Quote
---